8 Killed As Hoodlums Burn Ikotun Police Station Amid Looting
At least 8 people were killed at Ikotun area of Lagos after hoodlums mobilized themselves, set the Ikotun Police Station ablaze and started looting properties belonging to people who own shops and offices around the place.

P.M.EXPRESS reports that in attempts to repel them, as they put up resistance, about five of the hoodlums were shot dead, many sustained injuries and were taken to various hospitals for treatment. Three other victims were also killed at various points in the area.

For the past two days, the hoodlums had been attempting to burn the Station but some Police officers repelled them but when they could not continue to do so, they fled and deserted the Station.
When the hoodlums stormed the Police Station on Wednesday, it was deserted and they set it ablaze while looting exhibits found at the Station.

Having successfully burnt the Police Station at about 3pm, they proceeded to a nearby supermarket, called Twins Faja and looted various items such as computers, household items, wristwatches, foodstuff, among other expensive items.

However, while the looters were still operating, a team of Mobile Policemen arrived the scene following a distress call, shot at the looters, killed at least five persons and several others were arrested with various gunshot wounds.

The bodies and those arrested were later taken away in the Police vans to an unknown destination but the hoodlums were able to resist the Mobile Policemen and they left.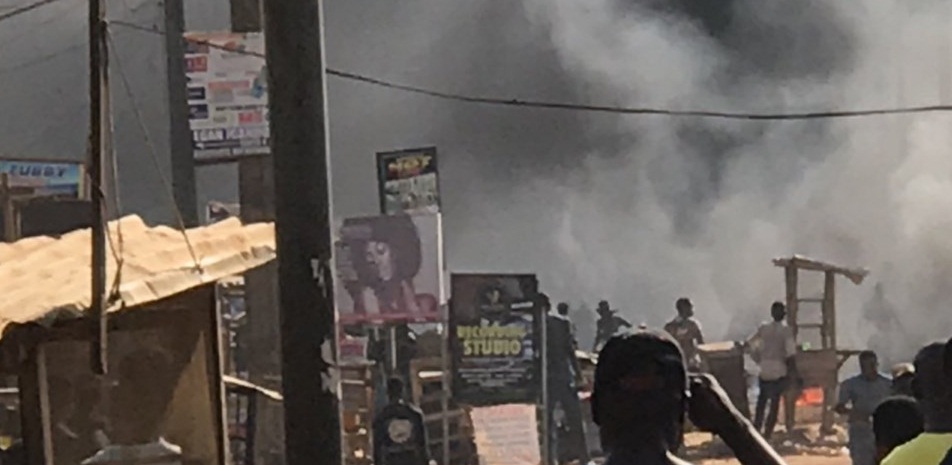 P.M.EXPRESS also gathered that earlier, a mob had lynched a Mobile Police officer while walking along the College Road Bus Stop in Ikotun, while another unidentified man, believed to be a Police informant, was also beaten to death in the presence of his infant daughter while taking a stroll.

Some of the hoodlums, who recognised him as Police informant, raised the alarm before others descended on him and beat him to death in the presence of his 7-year old daughter.
Then they started breaking into electrical shops, telecommunication offices carting away phones, laptops and accessories.

The looting reportedly continued till around 9pm when our reporter left the area. But by then, it was the turn of the people around, who they dispossessed of their various valuables.

Amid the curfew and following the ugly incidents, the entire area was like a ghost town as the roads were totally deserted with hoodlums taking over the Ikotun Roundabout committing various crimes.
P.M.EXPRESS