How 2 Domestic Staff Killed Their Boss & Stole #500000
Some households don't like the idea of employing the services of Househelps because it is often difficult to find well behaved househelps. There are other families that can't do without employing the services of househelps. The good thing of employing househelps is that they can help with so many house works which the owner of the house may not be able to do by himself. Despite the importance of having househelps, some of them have in some instances treated their boss very badly.
The Lagos state police command has reportedly declared two househelps identified as Biodun and Joseph wanted. The two househelps are believed to have strangled their boss to death. The state police command are currently searching for the two suspects for the murder of their boss, Alhaji Rabin Owolabi Oyenuga. Alhaji Rabin Owolabi Oyenuga was a house developer before his untimely death. He was strangled to death in his home in Ikorodu in the early hours of November 5th, 2020.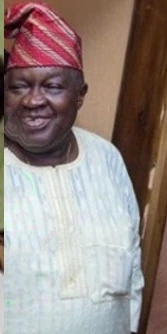 The deceased person Alhaji Rabin Owolabi Oyenuga.
The Lagos state police command disclosed that Alhaji Rabin's househelps are from Cotonou, Benin Republic. According to a statement released by the daughter of the deceased, Adetola Oyenuga, the househelps took the ladder to pass through the ceiling and came out of the visitor's toilet which is adjacent to the deceased person's room. The suspects went to his room and strangled him to death. They also stole his phones, jewelries and a sum of N500k that was brought to him the previous night.
After committing the murder, the suspects escaped through the gate and left the mask they used at the entrance. Alhaji Rabin was a very generous man. He was described by his daughter as an accommodating and a philanthropic man. It is unclear if the househelps had any malice for the deceased or if they only wanted to steal his 500,000 naira and other stolen properties. Anyone who has any information which will lead to the arrest of the two persons whose pictures are above, should please
contact the Nigerian police force.
FEED NEWS